Description
The Atlas SUNTEST XXL+ ST is an extra-large xenon lamp flatbed instrument especially tailored towards the needs automotive parts testing. A dedicated model for testing automotive interior & exterior methods per the Society of Automotive Engineers (SAE) J2412 and J2527 test methods.
Its horizontal 2925 cm2 exposure area and tall chamber height is best-in-class for 3-D specimens testing.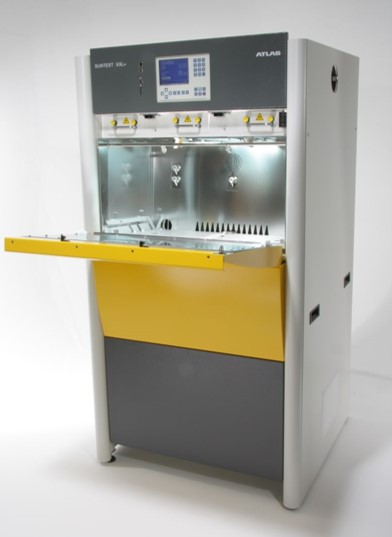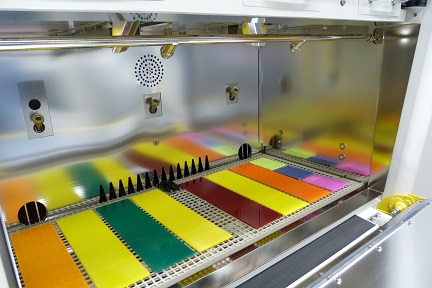 The SUNTEST XXL+ ST is used to test automotive interior trim components against their hot lightfastness (SAE J2412) and automotive exterior materials against their weather-fastness (SAE J2527). Both protocols were developed by the American automotive industry and both use extended amounts of short wavelength UV to promote further acceleration of the test (exterior J2527 has a daylight spectrum option).
Benefits:
Tallest test chamber height, favorable for 3-D specimens
High irradiance uniformity – no manual repositioning of specimens
Easy-to-use touch screen user interface with 13 selectable languages
Pre-programmed J2412 and J2527 for Quick-start testing
Access port for additional external sensors
Black Panel on stilts to allow precise BPT control
Automatic control of irradiance for various testing needs
Dimensions 90 x 91 x 172 cm
3 air-cooled 1700 W xenon lamps
Easy-to-use touch screen user interface with 13 selectable languages
Direct setting and control of irradiance at 300-400 nm or 340 nm
Direct setting and control of Black Panel Temperature (BPT)
Direct setting and control of chamber temperature (CHT)
Direct setting of tolerance ranges for each test parameter for optimum test control
Display of diagnostic messages
10 free programmable tests possible with up to 12 phases
Pre-programmed SAE interior and exterior standards for Quick-starters
Perforated test table (79 cm x 37 cm) to expose flat samples or 3D specimens
Simulation of solar radiation with extended UV aligned to SAE test methods
Lamp cassette with aluminum reflector, lamp connections and filter slot
Non-aging Extended UV filters with cut-on at approx. 280 nm
Quartz base filter with IR-reflective coating
Irradiance control range 30-80 W/m2 (300-400 nm); 0,25-0,75 W/m2 (340 nm)
Measurement and control of CHT: max. 70 °C (during light phase)
Measurement and control of BPT: max. 100 ºC (during light phase)
Selectable temperature control either by CHT or by dual control: CHT and BPT simultaneously
Controlled temperature difference between CHT and BPT
Ultrasonic humidification system for humidity control
Specimen front spray and back spray system with integrated 60 L water reservoir
5° tilted specimen test plane for spray water draining
Access port ca. 30 x 25 mm to connect external sensors inside the test chamber
Switch-off by radiant exposure, light exposure time or total operating time
Advanced auto-start functions
Data output via memory card or RS 232
Internal memory chip for storing instrument data
Ethernet interface for network connections. See optional XenoTouch Software Add-ons 1, 2, and 3 ("Remote Control", "E-Mail Service", "Online Monitoring")
Daylight filter
Window Glass filter
BST sensor
Specimen holders and masks
Sliding sample table, perforated, with exposure area of 740 x 368 mm
Air outlet hood for connecting the 3 outlets to a laboratory ventilation system
SunCal BB 300-400 BST sensor for calibration of irradiance in W/m² in the wavelength range 300-400 nm and for calibration of BST in °C
XenoTouch Software Add-ons "Remote Control", "E-Mail Service", "Online Monitoring"
The listed standards and specifications may include several alternative testing options. The instrument meets at least one option in any listed standard. Standards are subject to change without notification, which may result in a change in testing technology. Always check the revision status of a standard with the responsible Standards Development Organization. If unsure about instrument compliance, please contact your local sales representative.
SAE J2412
Accelerated Exposure of Automotive Interior Trim Components Using a Controlled Irradiance Xenon-Arc ApparatusStandard
SAE J2527
Performance Based Standard for Accelerated Exposure of Automotive Exterior Materials Using A Controlled Irradiance Xenon-Arc Apparatus