Description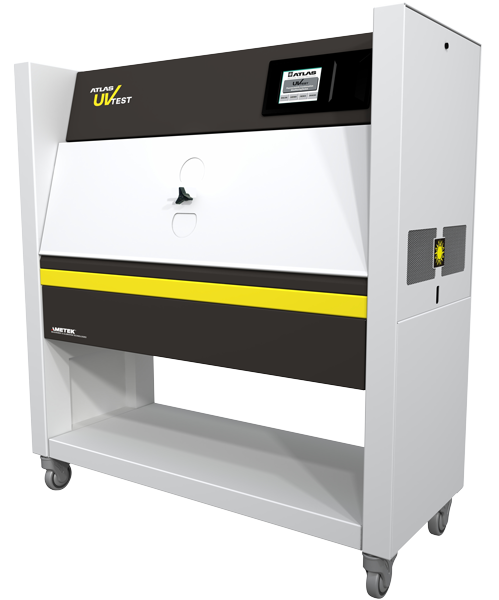 Atlas' UVTest is an economical instrument for fluorescent UV and condensation weathering test methods. The instrument uses UVA-340, UVB-313, or UVA-351 fluorescent bulbs for a variety of applications. The touch screen provides simple operation and control in several languages. It has patented irradiance ports for safe calibration not offered on competitive fluorescent UV testers. Multiple units can be stacked for space considerations, and a recirculating spray option is available to reduce the amount of DI water used.
The innovative design is a new, higher standard in terms of features, ease-of-use, accuracy and safety as compared to competitive fluorescent UV devices.
– Proven performance matches or exceeds other brands
– Modern touch screen interface in several languages
– Remote ethernet data acquisition
– Unsurpassed safety compliance
– Recirculating spray water option
– Plus many other exclusive user-friendly features
Fluorescent UV lamps (8) – 40 W (UVA-340, UVB-313, UVA-351)
Black Panel Temperature (BPT) Control
Door safety and over-temperature shutoff
CE compliance and UL & CSA certified
Specimen Holders
Mulit-language Touch screen display
Irradiance calibration safety access ports
Ergonomically designed specimen retaining rings
Recirculating spray water
(12) specimen spray nozzles
Hand-held irradiance calibrator
Data acquisition program via Ethernet
Stacking kit
Irradiance control (340 nm, 313 nm, 351 nm)
Customer-specified spray nozzles
WXView Data Acquisition Package
Backer boxes for 3-dimensional and odd shaped specimens
The listed standards and specifications may include several alternative testing options. The instrument meets at least one option in any listed standard. Standards are subject to change without notification, which may result in a change in testing technology. Always check the revision status of a standard with the responsible Standards Development Organization. If unsure about instrument compliance, please contact your local sales representative.
ASTM D4329
Standard Practice for Fluorescent UV Exposure of Plastics
ASTM D4587
Standard Practice for Fluorescent UV-Condensation Exposures of Paint and Related Coatings
ASTM D4799
Standard Test Method for Accelerated Weathering Test Conditions and Procedures for Bituminous Materials (Fluorescent UV and Condensation Method)
ASTM D5208
Standard Practice for Operating Fluorescent Ultraviolet (UV) and Condensation Apparatus for Exposure of Photodegradable Plastics
ASTM G151
Standard Practice for Exposing Nonmetallic Materials in Accelerated Test Devices that Use Laboratory Light Sources
ASTM G154
Standard Practice for Operating Fluorescent Light Apparatus for UV Exposure of Nonmetallic Materials
DIN EN 12224
Geotextiles and geotextile-related products – Determination of the resistance to weathering
DIN EN 1297
Flexible sheets for waterproofing – Bitumen, plastic, and rubber sheets for roofing – Method of artificial ageing by long term exposure to the combination of UV-radiation, elevated temperature and water
DIN EN 13523-10
Coil coated metals – Test methods – Part 10: Resistance to fluorescent UV light and water condensation
DIN EN ISO 4892-1
Plastics – Methods of exposure to laboratory light sources – Part 1: General guidance
EN 927-6
Paints and varnishes – Coating materials and coating systems for exterior wood – Part 6: Exposure of wood coatings to artificial weathering using fluorescent UV and water
ISO 11997-2
Paints and varnishes – Determination of resistance to cyclic corrosion conditions – Part 2: Wet (salt fog)/dry/humidity/UV light
ISO 16474-3
Paints and varnishes – Methods of exposure to laboratory light sources – Part 3: Fluorescent UV lamps
ISO 4892-3
Plastics – Methods of exposure to laboratory light sources – Part 3: Fluorescent UV-lamps
prEN 1062-4
Paints and varnishes – Coating materials and coating systems for exterior masonry – Part 4: Preconditioning of exterior coatings to UV radiation and water in apparatus
SAE J2020
Accelerated Exposure of Automotive Exterior Materials Using a Fluorescent UV and Condensation Apparatus