Description
Ergonomic Design
Designed from the perspective of the user, the AminoSAAYA's daily workflow, movements, and operational requirements are extremely simplified.
The height of the reagent setup unit accommodates better accessibility. Daily tasks such as reagent replacement, sample setup, and maintenance are made easy and can all be done from a standing position (the work requiring a half-sitting position has been minimized)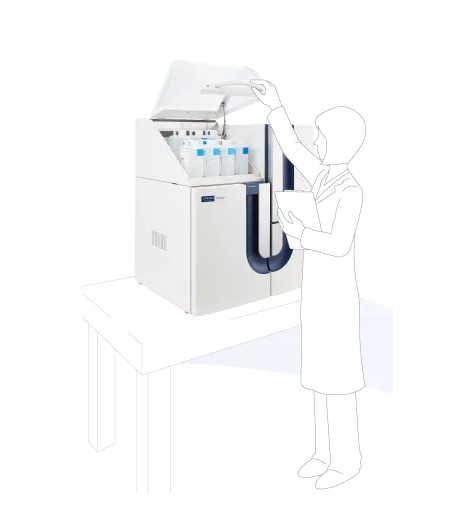 Space-saving compact design
This new design resulted in a unit with a footprint that is 30% less than the previous models. In addition, this unit is designed to be placed on a standard laboratory benchtop.
The use of Hitachi's highly reliable and stable post-column Ninhydrin method ensures compatibility with methods run on previous models (L-8800/L-8900).
The reliability and stability cultivated over many years have been maintained in this new system. The analysis methods are inherited from previous models, and the basic analytical conditions, columns (packing materials), and reagents that have been in use can also be used without making any changes.
Select the analysis method (column, reagent, and analytical conditions) depending on your required analysis (Protein Hydrolysates (PH) or Physiological Fluids (PF)).
Commercially available buffer solutions and reaction reagents (dedicated reagents) can be used without preparation.
Unstable Ninhydrin reagents usually require refrigeration. However, with the Hitachi amino acid analyzer, the two solutions are mixed immediately before the derivatization reaction. Therefore, there is no need for refrigeration.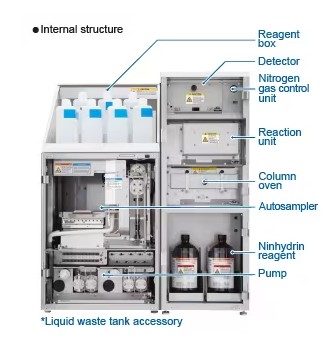 Data
Analysis Example: STANDARD ANALYSIS COLUMN (Protein Hydrolysate analysis method)